The high-level theme of the event was "Looking to the future of payments". A traditional event, at its 10th edition,  SWIFT Business Forum Romania was held in Bucharest on 24th of November and organized by the Romanian Banking Association and SWIFT.
More than 100 representatives from financial institutions discussed about the challenges that impact the payments industry in the context of rapid transformation of the EU payments landscape. Changes in consumer behavior, faster and real-time payments, open banking models, new regulations, technology disruption, compliance pressure are among the challenges that affect and reshape the payments space.
In the opening plenary Dr. Radu Gratian Ghetea, President of Honour of the Romanian Banking Association, and SWIFT National Member Group Chairperson and Sergiu Oprescu, Chairman of the Board of the Romanian Banking Association made a radiography of the Romanian banking system, followed by Matthieu de Heering, Head of Central & Eastern Europe, SWIFT who presented the SWIFT 2020 Strategy update.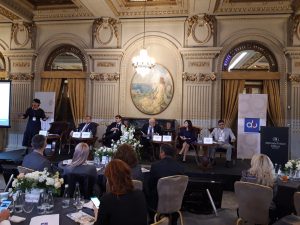 Other topics include:
Tanja Van Sterthem, Financial Service Consultant, Standards Advisory Team, SWIFT presented details about the migration of cross-border payment traffic to ISO 20022 that start in November 2021;
In the Evolution of the European Payments Landscape, Rodica Tuchila, SWIFT User Group Chairperson, Romania, moderated a panel of SWIFT experts and representatives of the National Bank of Romania and Banca Transilvania. They discussed the EU payments landscape and the impact on the Romanian market;
As cyber-attacks become more frequent and sophisticated, Frank Versmessen (SWIFT) talked about securing the financial ecosystem, followed by Gizem Tansu (SWIFT) who presented the Financial Crime Compliance Portfolio of SWIFT.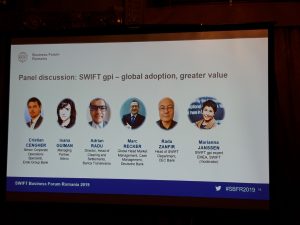 Marianna Janssen SWIFT gpi expert EMEA, moderated a focus session on SWIFT gpi. Allevo was represented by Ioana Guiman, Managing Partner Allevo and shared the stage with Marc Recker from Deutsche Bank, Cristian Cengher from Erste Bank, Radu Zanfir from CEC Bank and Adrian Radu from Banca Transilvania.
The 10th edition of the SWIFT Business Forum Romania was instrumentally put together by the Romanian Banking Association. Special thanks to Rodica Tuchila, Executive Director at the Romanian Banking Association, and Judit Baracs, Country Manager Romania SWIFT, for the flawless organization.