Wednesday, September 24, 2014
Boston, this year's host for Sibos, is placed among the top 30 most economically powerful cities in the world. The Greater Boston metropolitan area has the sixth-largest economy in the country and 12th-largest in the world. Enough reasons for SWIFT's choice of location? Can't really say as in the distribution of Boston's economy, financial activities account for only 8%.
Anyway, the last two days of September and the first two of October, will see Boston filled with over 6000 more suits, taking part in the world's biggest financial industry event. Five of them are our own, as for the 7th year in a row, Allevo will be among the exhibitors.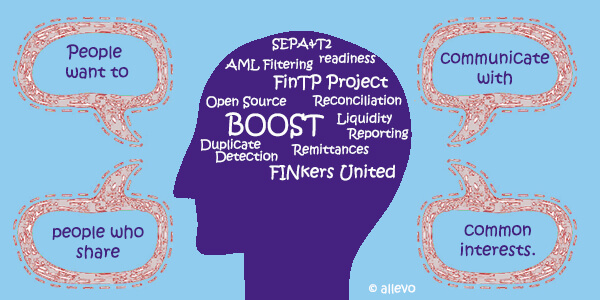 Why are we attending again this year?
Because Sibos offers the opportunity for enterprises to network and connect with thousands of industry decision makers, topic experts and thought leaders from financial institutions, market infrastructures, corporations and technology vendors across the globe. If you want to be a key player in the financial sector, Sibos provides the ideal platform for you to get your voice heard by the right people – it's an event you simply cannot miss! We have ideas to share and the creativity to make those ideas appealing to both Sibos attendees and potential customers, so that's why we are attending.
What will we be showcasing?
This year, we will bring up for discussion banking on open source technologies and what that means in today's environment. This includes how banks can adopt and operate using open source principles and its core philosophy: free cultural success sharing, free business competition, cooperation in non-differentiating operations area, and business ethics. It is the first Sibos since we officially started publishing FinTP, so we will be focusing on the challenges of running an open source community in the tightly regulated financial services market. However, Sibos isn't just an event to share ideas, it's also a place to build solutions. If a customer is worried about remittances, reconciliation, Single Euro Payments Areas, regulatory compliance, transactions filtering, liquidity reporting, duplicate detection, treasury or competitive reports, we are there to show them a way to solving those challenges.
Banking On Open Source Technologies – that's got to BOOST, right?
Imagine a bank powered by an IT infrastructure made up of free open source software. Imagine benefiting from contributions of any party interested in enriching or rethinking bits and pieces of the software code, from an approach designed to encourage collaboration, creativity and idea generation in a community that's open and transparent. Imagine a platform that could serve as the base for creating a new standardization layer that goes beyond mere standardization at message level.
And as you imagine, think of FinTP, the first application that can process financial instruments and transactions, in general, distributed under free open source license; a vehicle that supports current financial market trends that take advantage of mobile business, personalized customer experience and shortening of supply chains, a vehicle that will empower the small and medium business to compete in this new world as well.
It is one piece of the puzzle and it can drive banks and financial institutions to do banking differently, and that is based on open source technologies, benefitting from all advantages of open source software. And when banks and financial institutions succeed to implement a completely open IT infrastructure, this next standardization level can be achieved.
And it's got to BOOST as it has become more and clearer over the past decade that the future of software is open and that people want to communicate with peers who share common interests.
What are we most looking forward to?
We're looking forward to discussing FinTP and its related open source community FINkers United with industry experts, as well as highlighting the benefits of open source banking technology and bringing new members into the community. We also can't wait to launch the FinTP idea contest for features or apps that can be built on top of or connect to, FinTP. We will select the best ideas at Sibos and try implement and include them in future releases of the FinTP Project, this way giving something back to the FinTech community.
What Sibos key trend is also on our agenda?
Financial inclusion for the poor. It is still a key trend at Sibos and will continue to grow over the coming years. Financial institutions have started to look at disintermediation in a new way as they search for alternative solutions to be able to provide financial services for everyone. So the timing for the FinTP Project couldn't be better.
What do we hope to bring back Boston?
Well, the satisfaction of yet another successful participation, of course. On top, many new good ideas for our FinTP project and new members in the FINkers United community.
What is our message for Sibos attendees?
If you are in Boston for Sibos don't forget 4 things, just 4:
BOOST – come share your ideas on the topic at our session on Tuesday, September 30th, 4PM in Conference Room 1
FinTP Idea Contest – join us for the launch of the contest on Monday, September 29th, 4PM at Stand F79; share and vote ideas all throughout Sibos; celebrate with the winner on Thursday, October 2, 4PM at our stand F79
Open Source – let's talk about financial infrastructures for public administrations in the context of a shift in philosophy  in finance, inspired by open source principles – Open Theatre One, Wednesday, October 2nd, 2PM
Stand F79 – where you can talk to us about all the above and many others like remittances, compliance, reconciliation, AML filtering, duplicate detection, liquidity reporting.
By Ioana Moldovan,24 September 2014.