The Sibos spirit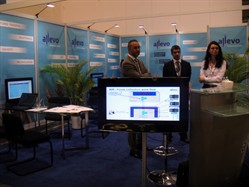 We all know that time flies, but I simply can't believe how fast it has this time around! We've just put an end to the first day of Sibos 2011 and there are only 3 days left which will pass by in an instant. This is my 4th Sibos in a row, both as visitor and exhibitor.By now I already learned what to expect from the hectic Sibos week- or so I think. Nevertheless, you can never be too prepared for such an event; Sibos never seizes to surprise you and you can never be too prepared for it.
For instance I was sure this year's venue was going to be far below that of 2010 in terms of visitor flow, demo requests, relevant meetings and overall attendance. That's what everyone thought, given the fact that events outside Europe are known to be less attractive to key participants everyone is hunting for. After only one day, it proves that our worst fears were not met: plenty of visitors walked down the MTCC's halls, jumping from conference to session to meeting, checking out product demos, searching among the latest solutions vendors are showing off with, making new contacts and soon.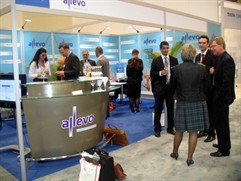 The Allevo 5 o'clock wine
Our 5 o'clock, well, not tea, but wine got lots of friends & partners inside our small booth. I don't think our stand has ever looked smaller; but just looking across the hall to our exquisite stand neighbors (Bank of America Merrill Lynch,Deutsche Bank, ING, RBS, Standard Chartered, Tata Consultancy Services, Wells Fargo and SWIFT itself at the other end of the hall) made us feel like being part of the Champions League. Adding plenty of people sipping their glass of wine made it feel like there was no space left to move. However the 5 o'clock wine seemed to be well received by people searching for a moment of respiro after a long day. We are going to organize this over the following days as well, 5 pm sharp, so please drop by if you have 10 minutes to spare in your busy agenda at the end of the day.
The Allevo daily draw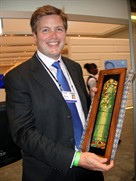 Everyday three icons hand-painted on glass are awarded to the luckiest three visitors who drop their business card at Allevo. Today's happy winners are from Finextra, Bank Central Asia and Innopay. Say a prayer every morning in front of it is absolutely optional ;-).
Allevo on show
One thing we learned is that if you plan to make a statement on the exhibition floor, you have to permanently come up with something new. Thus this year, our latest product pitches comprise solutions for:
banks
corporations
public administrations
service bureaus
the open source community
biometric identification
Ok, maybe the first 4 are on everybody's lips,but open source? Yes, open source. Why not in the financial processing systems' world as well? If interested to hear more about this concept, we expect you Wednesday 9:30 Community Room 3 to attend our "Financial interoperability and open source" community session moderated by Mrs. Rodica Tuchila from ARB (Romanian Banks Association).
We also expect all our Sibos readers tomorrow morning, Tuesday Sept 20th, in room 201D, for the exclusive "Round-table debate on open source" session organized by Allevo. The purpose of this session is putting the base to an open source community in order to catalyze the transactions processing commoditization. All guests are welcome at the after-party. We're organizing a cocktail reception for all session attendees, same place, all afternoon long. So, if you read this blog post, you're more than welcome to come!