Tuesday, September 23, 2014
by Mihai Guiman
Open Source in Public Administration is a trending subject. Many headlines nowadays announce that public authorities support the adoption of open source in favor of enterprise software. This is no longer happening only in the US, for example the Italian government issued last year final rules implementing a change to procurement law that now requires all public administrations in the country to first consider re-used or free software before committing to proprietary licenses. Government institutions, healthcare and education systems are starting to look into the possibility of adopting open source software not only at infrastructure level to reduce costs but also at the application layer.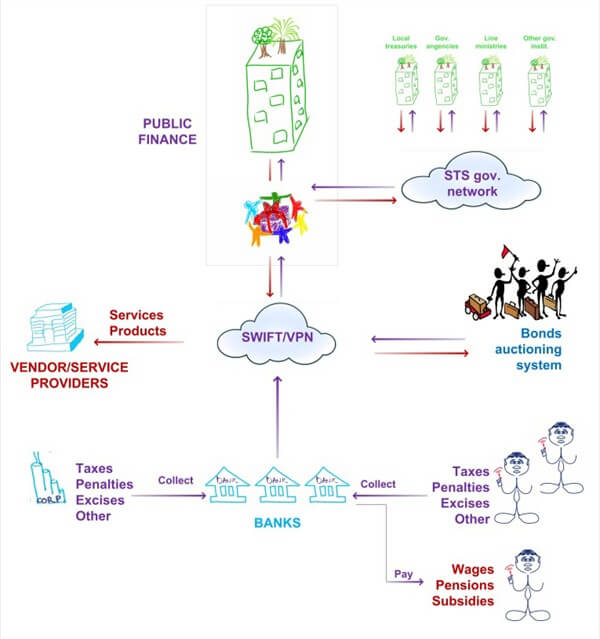 FinTP is an open source application that helps institutions to process financial transactions, to centralize the business flows and to add operational and business functionality needed in financial integration architectures. Allevo delivers solutions based on FinTP to banks, corporates, microfinancing institutions, processing centers and public administration.
For the last 10 years, Allevo has been working closely with the Romanian State Treasury, deploying several projects around financial transactions processing that aimed to improve the efficiency, contain the risk, integrate external communication channels and add tools that provide real time views and forecasts on liquidity. One of the most important advantages of the deployed solution is that it is implemented based on the financial industry messaging standards and regulations, making it easy to be replicated for other State Treasuries.
This 10 years' experience helped Allevo to develop a good understanding and expertise in the way financial transactions and relate flows are implemented in public administrations, hence several projects were launched into debate.  Last year at Sibos in Dubai, Allevo hosted an open debate on the topic of auction systems of state treasuries – All About T-Bonds. This year at Sibos in Boston we launch another project idea aimed to improve the operations of state treasuries – Financial Infrastructures for Public Administration.
This year's session is hosted in an Open Theater setting, where we will present the challenges of the current system of payment services in Public Administration – wages, pensions, allowances – and how the FinTP implementation is going to improve efficiency, contain risk, reduce cost and increase automation on the end-to-end financial cycle.