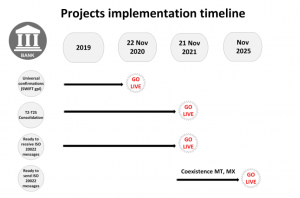 The payments ecosystem is rapidly transforming  and new challenges are arising continuously. Allevo is directly involved in assisting financial institutions  to successfully face these challenges. Through our software products and value added professional consultancy and support we are able to assist our clients on a step by step basis in any hot projects linked/relevant to the payments area.
In the context of the T2-T2S consolidation, the migration of cross-border payments and cash management messages to ISO20022, banks are expected to send universal confirmations for the payment instructions they receive through SWIFT messages, Instant Payments, compliance with PSD2. For this puropose, banks are also required to adapt the internal applications for interfacing with SWIFT gpi or Open Banking. These are the projects that Allevo is and  will continue to be directly involved in for the next years.
On our list, the most urgent projects that banks must start preparing for as we speak, in order to be ready on time, are:
TARGET2-TARGET2Securities consolidation (migration of the financial messages from the MT format to ISO20022 – to be finalized in November 21, 2021, as per Eurosystem's imposed deadline).
The migration of cross-border payments from MT Category 1, 2, and 9 messages, to their ISO 20022 equivalents – deadline: November 2021 for receiving payments in ISO20022 format and November 2025  for both incoming and outgoing cross-border payment flows in ISO20022 format – deadlines set by SWIFT.
SWIFT gpi – a service offered by SWIFT to monitort he progress of cross-border payment instructions throughout their entire payment channel, offering to the participating banks visibility, transparency and processing speed for the payments sent and received. Although joining SWIFT gpi service is optional, starting with November 22, 2020, all SWIFT members will be required to confirm in the gpi Tracker that the funds have been credited in the beneficiary's account. This is a mandatory requirement for all incoming cross-border payments, in order to create visibility and traceability on the status of a payment. SWIFT gpi seems to become the new standard for cross-border payments on SWIFT network.
Allevo is here to offer banks the support needed to ensure compliance with all these projects, by constantly providing  technical solutions along with its 20 years experience and know-how in processing financial transactions according to the financial industry standards.