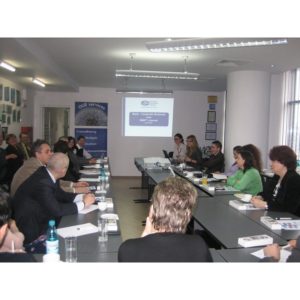 Continuing BIS' 2009 initiative of organizing workshops on various subjects that concern the financial market, our 2010 plans started with a first workshop on the 24th of February, focused on the bank-corporate business over SWIFT network.
Committed to present such a solution which would optimize the financial operations exchanged between companies and banks, BIS gathered a fair number of participants from both the banking environment and the treasury and financial departments of several companies, representing industry verticals such as: retail, transportation, pharma and telecommunication.
Which were our expectations for this workshop? The answer is: DIALOGUE!
Intended to be a very interactive seminar, BIS moderated in fact a free dynamic discussion between the 2 key players of such a project (banks & companies) who brought on the table their needs, their real issues, the foreseen benefits, the drivers in the corporate-to-bank space and the possible collaboration grounds.
In a nutshell, the debate resulted in the following findings:
Benefits – companies' ease of work in relation to the banks they are collaborating with;
– the possibility to extend the current banking offers with features that are not supported by the existing e-banking interfaces( treasury, trade finance, securities);
– the advantage of using one single, highly secure, standardized communication platform (SWIFT network), as opposed to multiple connections and proprietary interfaces, leading to a global visibility on cash and lower costs of financial transactions;
– competitive advantage for banks to offer such value-added services to their clients, in order to maintain customer fidelity.
Issues – the lack of information and of promoting this type of solutions among companies;
– uncertainty regarding companies' interest in this type of offering, while for banks the companies' requests represent the main driver to offer such services;
– uncertainty regarding banks' interest in offering such services to their corporate customers;
– investments in adapting the internal applications.
Questions ? BIS' SWIFT certified experts were glad to answer a lot of questions and to professionally address the raised issues, thus facilitating a focused dialogue which revealed the real "feel" of the players involved in the corporate-to-bank space.
Gathering information and documenting such a project is the first step to its development, the challenge, however, is for everyone involved to take action.
We would like to answer your questions too… so please feel free to open the dialogue!