Thursday, May 29, 2014
by Andrei Dutescu
As probably most of you already know, mobile payments, also referred to as mobile money or mobile money transfer, generally refer to payment services operated under financial regulation and performed from or via a mobile device. So, basically, instead of paying with cash, cheque or credit cards, a consumer can use his mobile phone to pay for a wide range of services or goods.
As digital mobility with internet-enabled devices is the next new thing, smartphones, tablet PCs and e-book readers will fundamentally change the way financial services are working, especially (mobile) payment systems in the coming years.
One company alone will not be in the position to serve the entire market of mobile payments. Participants like card providers (MasterCard, Visa), Telcos (Vodafone, Orange, O2) or new competitors like Google, PayPal or Apple are already playing or will play a very important part in the market dynamics.
Telecom groups, such as Vodafone, are already offering enhanced mobile payment services, especially in developing countries. In these countries mobile payment solutions have been deployed as a means of extending financial services to the community known as the "unbanked" or "underbanked", which is estimated to be as much as 50% of the world's adult population.
M-PESA (the mobile payments service from Vodafone) has become so popular in parts of Africa, especially Kenya, by offering a secure means of payment for people who do not have easy access to banking services. A mobile phone text message is all that is needed to pay for everything from bills and schools fees to flights and loans. With M-PESA, customers register for the service with an authorised agent, often a small mobile phone store or retailer, and then deposit cash in exchange for electronic money which they can send to their family or friends, by using only their mobile phone.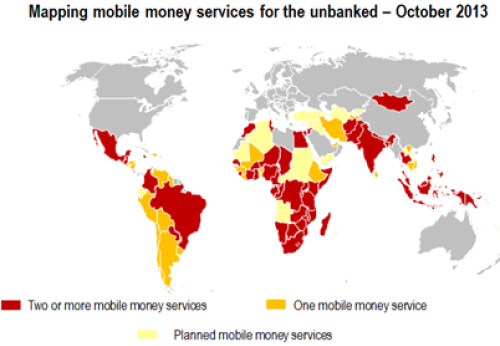 Source: GSMA
After having transformed Kenya's financial services industry, the mobile money system M-PESA arrived in Europe, with Romania being the first country where the service was launched. The initial concept of M-PESA was to create a service which allowed microfinance borrowers to conveniently receive and repay loans using Vodafone's mobile network.
Microfinance institutions (MFIs), like Musoni for example, an Allevo customer by the way, provide access to small value loans for the poor, but also to a broad array of products (including payments, savings and insurance). In this particular case, our software product for processing financial transactions (qPayIntegrator) was used to assure the integration of M-PESA interface with Musoni's back-office systems, Allevo contributing in this way to the process of bringing financial services to the unbanked.
People that are living in poverty deserve to have like everyone else access to a diverse range of financial services in order to properly run their businesses or to manage risks and we are glad to be a small part of this process.