Tuesday, April 16, 2013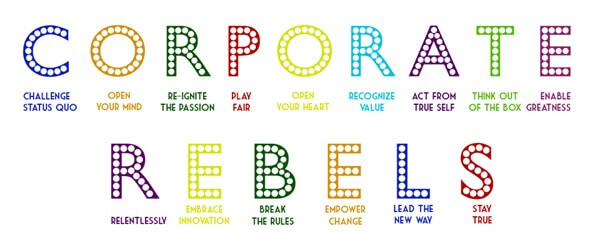 Ever wondered how you could spend a cool, interesting, challenging, provocative, entertaining, full 24-hour? Well, now is your chance, as Corporate Rebels United, in a joint initiative with Rebels at Work thought of having a 24-hour online Rebel Jam. Just like jazz jam sessions, the Corporate Rebels' jam will bring together individuals from various cultural and professional areas, people who share the believe that this world should act NOW to remodel the relationships at both individual and community level, people who defend free thinking and speaking and the fair access to world's resources – including ideas and achievements.
The kickoff is on May 30 at noon in Europe CET, 6 AM North America East Coast, 3 AM North America Pacific and 8 PM Sydney. You can tune in any time or be there for the whole 24 hours if you're one of the truly crazy rebels :), to learn from thought leaders and Rebels about:
What are the big shifts that require our organizations to respond in fundamentally different ways to achieve dramatically higher levels of velocity?
What has helped Rebels to be successful?
Setbacks and obstacles Rebels experienced and how they've navigated through them.
Habits that help them stay creative, positive and respected.
This will be a time for Rebels worldwide to share their stories and practices with as many people in the world as possible, in the easiest, least expensive way; a time for inspiring entertainment and provocative discussions every hour, with hosts from Europe, North America and Asia; a time for learning and camaraderie, as much as the online environment can stand :); a time also for a little bit of fun in the corporate world.
And all you need to do is clear the dates in your calendar and be able to connect to the Internet. And the rebels will show you that the global interest created around how they can positively change business, government, education, healthcare and the world itself, did not come out of the blue.
And, as a rebel that we are, we cannot miss this for the world. In our slot between 16:30 – 17:00 Romanian time (15:30-16:00 CET), we will aproach the markets' pressure to reconsider the business model, correlated with the advantages of extending co-operation through sharing ideas, knowledge and accomplishments."See" you there 🙂
I'll come back with more detailed info soon, so stay tuned! Later Rebels.
By Ioana Moldovan, 16 April 2013.