Monday, August 25, 2014
by Ioana Guiman
BOOST is the title of the session Allevo organizes at Sibos 2014 in Boston. We invite the Sibos community to join us in Conference Room 1 on Tuesday September 30th 4pm to hear how our exclusive panel thinks banks can boost themselves up. BOOST stands for banking on open source technologies in today's financial environment.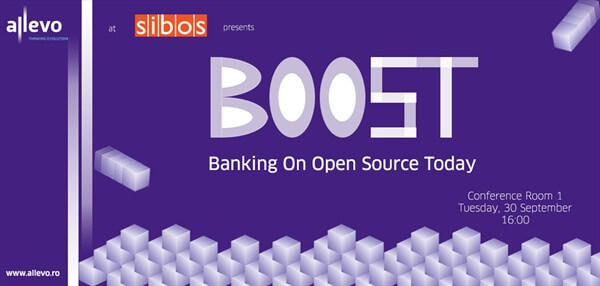 There are a lot of relevant applications of open source principles and models in healthcare, education, art, food and beverages, electronics, science and engineering, robotics, car manufacturing, governments and last, but not least, computer software. Banks, being renowned as very cautious institutions, have just recently started to look into the potential of open source software for parts of their IT infrastructures and to adopt open strategies, like publishing open APIs for developers to use. Their awareness of the impact of open source was amplified by the buzz caused earlier this year by heartbleed, the vulnerability found in the popular OpenSSL cryptographic software library. This is just the beginning of an inherent change the financial services ecosystem is about to experience. Connected devices that can talk to one another, super computers with intelligence to analyze huge chunks of data, in short, the internet of everything, are just a few of the things that started to give banks and financial institutions a gentle nudge. So the question we ask is what does banking on open source look like? Both from an adoption of open solutions perspective and from that of doing banking relying on open source principles. The foundation for the discussion is based on focusing less on the technological side and more on the values of the open source philosophy: free sharing of cultural breakthroughs, free competition in the business space, cooperation in non-differentiating operations areas and business ethics.
Although it may seem a bit ambitious to put the words banking and open source technologies in the same sentence, Allevo has been an old supporter of bringing the two together under the same umbrella. Ever since debuting as an exhibitor at Sibos, back in 2008, Allevo has invited various keynote speakers to debate on closely related themes.
In 2008, the Allevo session at Sibos was about "Public Institutions in SEPA Context" where we showed a pilot (that turned into a successful live project later on) conducted with the Romanian Ministry of Public Finance, aiming to automate and connect the State Treasury with all linked ministries and local administrations, by adopting the business model of a commercial bank. This initiative reduced bureaucracy and simplified the internal decision making process, resulting in improved budgetary payments and collection of taxes and other public debts. This also means better access to these financial services for the population, which brings us to the theme debated in Amsterdam, "Streamlining The Financial Supply Chain Ecosystem". We laid out possibilities for diversifying the offering of the main players of the financial supply chain to both their corporate and individual customers.
In 2011 in Toronto Allevo staged "Financial Interoperability and Open Source" at Sibos. Financial interoperability needs to be achieved for financial institutions to be able to offer better services to their customers. This goes from the enforcement of standards and regulations or the creation of regional infrastructures, like SEPA or TARGET2, to the adoption of an open source model into the financial transactions processing niche. This was the first time we brought the idea of creating an open source technology for the financial ecosystem to the Sibos stage.
One year later, in the Land of the Rising Sun, the panel invited by Allevo debates "Agile Financial Inclusion", aiming to show that financial institutions who want to include the un- and the under- banked in the ecosystem need to be more agile and that they need to start looking into open solutions for parts of their infrastructures where no competitive advantage can be gained. If everyone is connected by the technology they own, then why not use it as a financial inclusion tool? Plain or smarter devices, related to the individual's cultural and financial profile, facilitate the exchange of values in compliance with rules and de facto context.
In 2013 in Dubai we produced "Financial Tribes of the Future", a very successful session covered by Chris Skinner on his blog. At the heart of the discussion was the future of banks and how these are going to deal with payments, whether there can be grounds for cooperation between financial institutions and bank 3.0 IT companies. And in this context, it was interesting to see that knowledge in this space is foreseen to be shared in a transparent and open way.
This is the context we created throughout the years to see if the financial ecosystem was ready to embrace open source technologies and the context in which we bring FinTP, the most complex and thrilling project Allevo delivered, to life. To find out more about FinTP, please visit the FinTP project website and come meet Allevo experts at Sibos to explain in more detail what it is all about. And obviously, don't forget to join us on Tuesday 16:00 at BOOST!