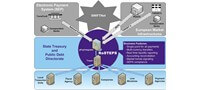 Romania offers an 'ecstatic' payments model for other European markets to follow
Five years ago, Romanian Banking Association (RBA) chairman, Radu Gratian Ghetea, presented to SWIFT the Romanian payments system under the title: 'From agony to ecstasy.' This week, he was back in Vienna offering lessons to other European markets.
'Romanian payments were in bad shape – a real mess,' he stated during a special interest session on public institutions in the context of SEPA. Now with STEPS performing daily payments and collections, MA-CUG and SCORE channel financial services are open also to corporates.
"The banks are happy because the state treasury participates in the system under the same terms as them. The treasury is happy because it's a good management of funds," he said.
Finance ministry representative, Stefan Nanu, said the system worked because 'the market sees the ministry as being on their side,' rather than an inefficient bureaucracy.
Meanwhile, Romania has initiated SEPA compliance for domestic payments ahead of euro adoption, scheduled for 2014. Sheida Hadji-Ashrafi, worldwide industry manager for payments industry solutions at Microsoft, said SEPA would "force innovation to add value."
Business Information Systems CEO, Sorin Guiman, attributed the company's role in payments transformation to cooperation. "To deliver knowledge, you need either to be a genius or you need powerful partners," he said. "We had Microsoft."