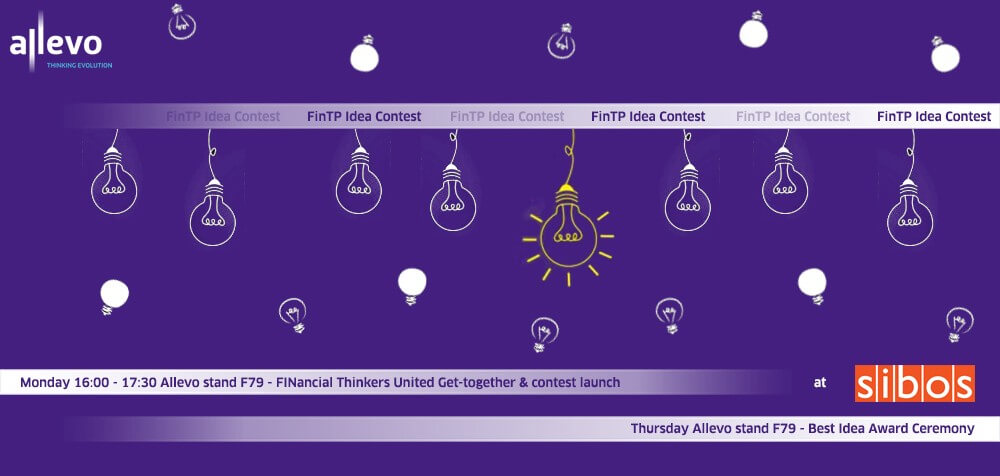 FINancial Thinkers United Get-together
Monday, Stand F79 16:00 ÷ 17:00
The FinTP Project will be showcased at Sibos in Boston. Part of the Sibos community is already familiar with Allevo's venture of creating the first application for processing payments and financial transactions in general, distributed under free open source license (GPL v3). At the beginning of 2014 Allevo lived up to its promise and published the source code and documentation of FinTP on GitHub and introduced the fintp.org space for the community.
A call for ideas!
Even if you are not a contributor to or acquainted with FinTP yet, we are curious to know what you think fit to implement in or on top of FinTP to extend or enrich its utility. It can be anything, varying from a tool that can make the life of developers, testers, business analysts better to a new feature for handling a certain type of standard or a report designed for business oriented people or even a change to the fintp.org portal. We want to know what you think FinTP needs. We want to know which ideas you consider best. So we created this space where you can:
Post your ideas for enriching FinTP
Rate ideas
Competition kick-start
Allevo invites you at an event where the FinTP Project and the FINkers United community are introduced to the Sibos audience and where this contest is explained in terms of what is awarded, who can participate and what types of ideas we are looking for. The event is hosted by Allevo in its F79 booth:
FINancial Thinkers United Get-together – Monday, Stand F79 16:00 ÷ 17:00
This is the time for financial thinkers' enthusiasts around the globe to put their minds together and think of ideas to enrich the first open source application for processing financial transactions. It is the time for idea generating networking with your peers.
We accept both online and offline ideas, exclusively from the Sibos audience. Members of FINkers United are also welcome to vote and comment on ideas posted on the fintp.org website.
Best idea wins a techie watch
During Sibos, online voting is open on fintp.org. You can share your ideas in any way that you like (twitter, Facebook, LinkedIn, emails), just make sure it gets voted by your peers. The idea with the biggest rating is awarded a techie watch on Thursday October 2nd 16:00 at the Allevo F79 booth at Sibos. The sole requirement is for the owner of the idea to physically be at Sibos to collect his or her prize. Furthermore, all ideas will be taken in front of the FINkers United board who will select those fit to be planned for future releases of the FinTP Project.
How to vote
Online voting is open during the week of Sibos Monday September 29th 09:00 EST and Thursday October 2nd 16:00 EST.
To post a new idea go here and let us know what you think cool to add to FinTP, your name and email address so we can contact you in case you win. Your name and email will not be public and we will not spam you.
All ideas will be listed in the same page and they can be rated by anybody, thus make sure you get your peers to vote for your idea.