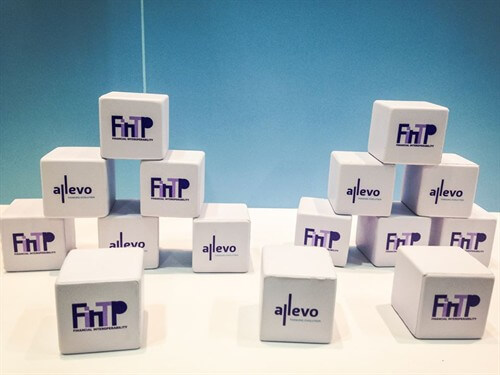 Allevo's team of experts is pleased to meet you at Sibos in Geneva, September 26 – 29, 2016.
The next major event for the Financial Services industry gives us the opportunity to participate as exhibitor for the nineth consecutive time. For Allevo this is great opportunity to provide the banking community excellent automation and integration solutions, while also talking about banking on open source technologies.
We believe open source is the suitable distribution model for banking software aimed to fuel everyday operations. The solutions that we provide represent the very DNA of banking.
FinTP is a versatile open source solution that our specialists designed in order to lower TCO and providefaster and better compliance. Its role is to provide process and flow automation, seamless integrationbetween various internal systems and external market infrastructures or networks such as SWIFT and to provide operators with relevant information in a one-window approach. The major advantage is that the open source distribution model allows for banks who use it to contribute updates and improvements to benefit all users and that means an unprecedented level of transparency and collaboration between banks.
We are inviting you to join our events during Sibos and change ideas with our team:
Wednesday 15:30 ÷ 16:00 Open Theatre One – The Trendsetter Bank
Wednesday 16:00 ÷ 17:00 Allevo stand F67 – Romanian Wine Tasting
Wednesday 16:30 ÷ 16:40 Allevo stand F67 – Announcing the contest winner
The Trendsetter Bank
Wednesday, September 28th, 15:30-16.00, Open Theatre 1
In a market full of provocations and opportunities, banks are trying to provide their customers with new technologies and a better experience of the process. In the meantime, banks have to put together an infrastructure capable of powering day to day operations and offer compliance to standards and regulations, an infrastructure that requires minimal effort and resources to maintain and run.
But how would The Trendsetter Bank look like? Join us at our Open Theatre session and find out our vision about what a bank needs to do to become a role model for the industry. The trendsetter bank is not a follower or a copycat, it is a reference for the entire FinTech ecosystem. It pleases and surprises its customers and it is trusted because it complies with regulations.
Romanian wine tasting
Wednesday 16:00 ÷ 17:00 Allevo stand F67
At the end of the third day of Sibos we are waiting for you at our stand F67 to taste a great variety of Romanian wines and grab a snack together. Romania is one of the world's top-ranking producers of numerous delicious wines and we are inviting you to taste wines from popular domestic grape varieties such as Feteasca Neagra, Chardonay or Sauvignon Blanc.
So please drop by on Wednesday, starting 16:00, to meet our team, talk about wines and find out more about our solutions.
Binary watch lucky draw
Wednesday 16:30 ÷ 16:40 Allevo stand F67
Come to our stand and win a Detomaso binary watch! It is very easy to participate. All you have to do is visit Allevo stand F67, between Monday – Wednesday 09:00 – 16:00, say "Hello!" leave your business card and… fingers crossed! On Wednesday from 16:30 ÷ 16:40 we will extract a business card and maybe you are the winner of a geeky binary Detomaso watch. Good luck!