Wednesday, April 23, 2014
by Mihai Guiman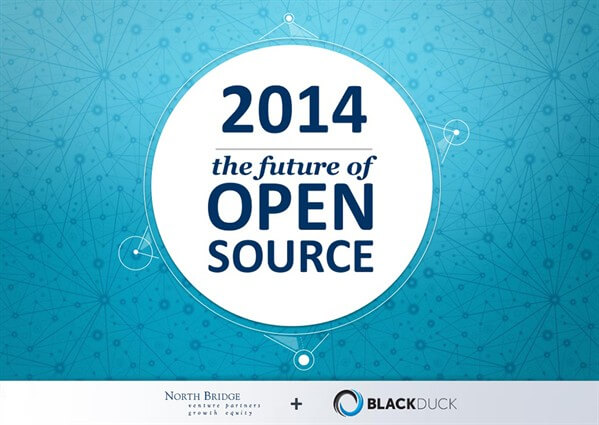 The annual Future of Open Source Survey, which provides a report on the state of the open source industry and analysis of future trends, reached its 8th edition. This year the survey confirmed that the open source movement is getting more and more attention, having received over 1200 responses and support from over 30 open source industry icons, with a rich conversation thread on twitter – #FutureOSS. The results were presented in a panel discussion that commented on the latest trends in open source, and evolution from the previous years. If you missed the webinar you can access the recording here and the survey results are available on SlideShare here.
Besides the record numbers in attendance, it's worth mentioning that this year more consumers of open source have participated to the survey than vendors, underlining that users are becoming more participative and are starting to contribute back.
Abstract
According to Blackduck, this year's survey results build upon the democratization and proliferation of open source in three main areas:
New People – Survey results uncover the growth of first-time developers participating in the open source community
New Technologies – the rate of innovation is spurring new technologies such as the Internet of Things (IoT) and the continued rise of Software as a Service (SaaS). When asked what industries open source technology was leading, 63 percent cited cloud computing/virtualization, 57 percent answered content management, 52 percent selected mobile technology, and 51 percent answered security.
New Economics – A change in the way enterprises view open source was signaled by 56 percent of respondents expecting corporations to contribute to more open source projects in 2014. When asked why corporations engaged with OSS communities, cost reduction remanded the top response (61 percent), but gaining competitive advantage came in second (45 percent), and for companies over 1,000 employees, influencing a project's direction was the third most popular answer.
Highlights
One major shift from the previous years is that the number one factor in adopting open source is based on the quality of software (8 out of 10). This is thought to be a direct result of more people becoming contributors to open source projects, which leads to creating and maintaining high quality software.
Another major shift is that security in open source is considered to be a strength, even though a couple of years ago security was viewed as a liability. I couldn't agree more, as I've followed the heated debate between security in open source versus proprietary software and shared my thoughts.
80% of the respondents consider that competitive features/technical capabilities of open source software are another adoption decision factor.
An interesting point made by one of the panelists is that only open source crypto currencies have been successful so far because it's the only way one can see transparently what kind of code is being used, also a new trend for financial applications.
The senior open source strategist from Samsung states that they both use open source technology in their products and contribute to open source. This way they are making sure they can to influence the development track of the projects. In his view, in order to be successful and have a competitive advantage when consuming open source you have to collaborate with others to build projects you can rely on. Helping the project grow will benefit you because it gives the possibility to free up engineering resources to work on things that are strategic rather than work on things which are commodity.
Allevo, FINkers United and FinTP
I have shared in a previous article how Allevo, a private ISV and consultancy company focused on delivering software products for financial institutions, decided to share our achievements and knowledge by publishing our application for processing financial transactions (FinTP) under an open source license. Of course, in order to ensure the project's success we have started to build a community of professionals around the application that share the same interests. We called it FINkers United.
Given these trends of the open source industry, I believe Allevo's approach with the FinTP project serves best the financial services market. The processing of financial transactions has become a commodity, so non-differentiating software should take advantage of what the open source culture is all about: sharing and collaboration throughout the software lifecycle in order to achieve high security and quality of software, control and flexibility, lower cost and improved efficiency.