Monthly Posts: October
Back at Sibos this morning for Day 3, we had a very nice surprise. Following yesterday's number of Sibos Issues where we had our advertorial promoting Allevo's sessions, today we were all over the edition 🙂 The most important mention followed Allevo's presence in the Hyper-Economies session within the Innotribe space. This session had also a great impact on participants as I saw a flow of tw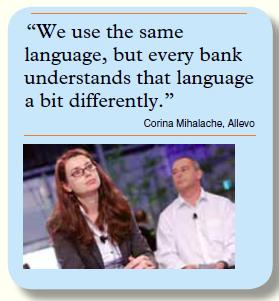 eets about it.

Another mention referred to our wine sessions, saying "Allevo proves without a shadow of a doubt Romanian wine rivals the best."
Also, one of our CEO tweets ended up in the Found on Twitter #Sibos section of Sibos Issues.
After this, another busy day at Sibos, but I guess this is a pleonasm, as all the days at Sibos cannot be other than busy Lots of meetings, interresting sessions, running demos, which lead to a lot of new connections, confidence, business opportunities and ideas. But this is what Sibos is about, isn't it? This is what " being present" is all about.
The time seemed to fly (not only today) and it was in no second that was 5 o'clock in the afternoon, which means time for our already well known Romanian wine session.
Romanian wine session

I think we already set a tradition to change the 5 o'clock tea for a good Romanian wine. Well this year did not make any exception.
So, when the clock struck five, the wine started pouring in the glasses welcoming guests with its lovely aroma. Our little booth was filled with friends, partners and visitors enjoying the unique taste of our Special Reserve Feteasca Neagra as well as a more than welcomed moment of respiro and relaxation in the company of their peers.
Thank you to all who have come to Cin-Cin with Allevo.
Lucky draw
At the end of our wine session, the wonderful hand-made Romanian wall carpets, real pieces of artisan art and the albums depicting our superb Danube Delta have found their lucky new owners.
The happy winners were are: Ferreol Thouzeau, PNB Paribas, Joachim Berg, EFiS, Mario Reichel, Payment Group and Nicolas Cabioch, Alti.
There goes Day 2 of Sibos already. This was the busiest day for Allevo, as we hosted our own session "Agile Financial Inclusion" in Community Room 2 and we were part of the "Hyper-Economies" panel, an Innotribe session, represented by Corina Mihalache.
Agile Financial Inclusion
Early in the morning, between 09:15 – 10:30, the Allevo session gathered an elite panel and an impressive number of participants to debate on these two concepts: agility and financial inclusion.

RaduGhetea
, President CEC Bank, Romania

MirceaMihaescu
(@MirceaMihaescu), Director Technology Research Center Sberbank, Russia

NicolaeBrova,
Chief Information Officer Société Générale Private Banking, Japan

Arthur Pereira
, CEO Descontel, Portugal

Ioana Guiman
(@IoanaGuiman), Product Manager Allevo, Romania
Moderated by Ms. RodicaTuchila (Director of the Romanian Banking Association), the session raised a lot of interesting topics: Does agility in transforming the business portfolio make sense for the highly regulated financial institutions? What could be the triggers to agilely adapt to the improvement demands of corporations and individuals? How can agility be stimulated by local or regional policies? In the context of the thoroughly regulated financial industry (global standards and global & regional regulations) are common instruments, such as payment instruments, a business differentiator? Is using open payment processing tools bound to improve the bank's coverage of commercial distribution chain, reaching as far as the individual purchasing goods or receiving personal income?
Our own, Ioana Guiman, also raised the discussion about open source platforms in this context, talking about how Allevo is radically changing its business model to fit into this new scenery, how it goes from creating proprietary solutions to developing open & freely distributed solutions. How this is the only way forward, as an open application is agile, it increases speed of change, it brings cost reduction, it increases reliability & security and it makes a very credible escrow agent because it cuts the dependency on software vendors.
"Open business models are drastically different from their predecessors in the sense that it takes bravery to make this conduct change and start thinking about sharing instead of owning & controlling. We're talking about a change of culture, a change in values. Bank employees need to start behaving differently, they need to engage with their peers and create a vivid collaborative environment where ideas are born, refined and brought to life. The change that needs to happen in financial institutions is that sharing needs to become part of the culture, part of the job", Ioana said. "So, in my opinion, banks need to do two things: collaborate with their peers at back-office & operations level, and use new tools in order to create these channels on top of what already exists" she concluded.
Oh, she's also looking forward to meet those of you who would like to get actively involved in open projects, specialists in financial services that want to be advocates of open technologies.
The Innotribe session was about the major cultural tectonic shifts that are underpinning and driving the hyper-connected economy and are the under-stream of deep organizational changes.
The panel

Mr. Michel Bauwens, Founder, P2P Foundation

Ms. Corina Mihalache, Director Business Analysis, Allevo

Mr. Mark Pesce, Founder, Future Street

Mr. Peter Vanderauwera, Innovation Leader, SWIFT
debated for two hours, between 12:30 and 14:30, on topics like the birth of new economies based on hyper-connected organizations, exposure of core competence through APIs, horizontal sourcing versus vertical integration,  Peer-To-Peer (P2P) sharing of data, Open Source developments, and activated humans that act from their true selves and lead into a new practice for value creation.
Corina, our own igniter (Innotribe's name for "speakers"), talked about our project FinTP, but I guess you are already familiar with it. Just as a short reminder: the innovative idea to develop the first open source application for financial transactions processing and with a niche community around it, which we chose to name FINkers United.
She also presented in premiere a short movie from FINkers United, the launching event of FinTP.
And not to forget, the Romanian community at Sibos has dinner together tonight. We'll have a great time, even if we had to promise our CEO not to try the poisonous blow-fish delicacy.
Tomorrow's preview:
Continuing its Sibos tradition, Allevo is organizing at our stand 3B11, the already well-known Romanian wine session and the lucky draw. Be there at 17:00 to delight your senses with the unique taste and flavor of a special Romanian wine and to be one of the lucky winners that gets a piece of traditional Romanian art, one of the beautiful hand-made wall carpets or one of the superb Danube Delta albums.
We are also waiting for you with presentations & demos ready to roll. Our latest pitches comprise solutions for banks, corporations, micro-finance institutions, public administrations and the open source community. With a focus this year on remittances, reconciliation and of course on our new open software distribution project FinTP, you don't wanna be a stranger
For those of you who did not get their giveaway yet, now it's a good chance.