Allevo at Sibos 2015 Singapore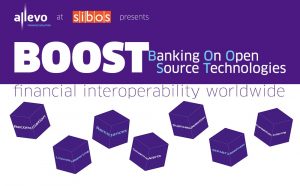 FinTP is aimed to grow competitiveness, offer operational risk containment and to make financial processing systems affordable to SMEs as well.
FinTP and all ancillary documentation is distributed freely and openly through the FINkers United community and it provides collaboration ground for rapid development and integration of new technologies, such as crypto currencies, biometric security, data analysis algorithms. This creates an open infrastructure for achieving real-time payments and a better management of liquidity and assets.
FinTP is a reliable single window to manage the transactions flows with features for:
Business area: liquidity reporting and forecasting, enhanced interoperability with the bank's corporate customers, as well as flexible service for individuals based on the extended use of SWIFT standardized messages set for remittances (SWIFT Remit).
Operations area:  operational risk containment functionalities (such as accounting reconciliation, duplicate detection, transaction filtering, competitive alerts) and support for the most popular financial information transfer instruments – payments, direct debit, debit instruments and securities, FX&MM confirmation, cash management, as well as multicurrency enablement.
IT specific area: insurance of the data quality (natively persistent transactions during their entire life-cycle) and system resilience (transactions mirroring to the back-up platform/s).
For regional market regulations compliance: SEPA – both SCT and SDD – readiness; Traget2 readiness.
Allevo has exhibited at Sibos for the 8th year in a row.
Allevo has taken the opportunity of Sibos 2015 to continue talking about banking on open source technologies, what it really means in today's world and the values of its philosophy: free cultural successes sharing, free (business) competition, cooperation in non-differentiating operations area, and business ethics.
Allevo's experts on site have been more than happy to meet financial industry leaders (bankers, consultants, market analysts, ISVs), to have had in depth discussions about banking on open source and FinTP usage. So thank you for visiting us at stand N49.
Allevo met its goals: to continue growing awareness on FINkers United, the community built around its open solution for processing financial transactions (FinTP), to make good new connections and establish new strategic partnerships.